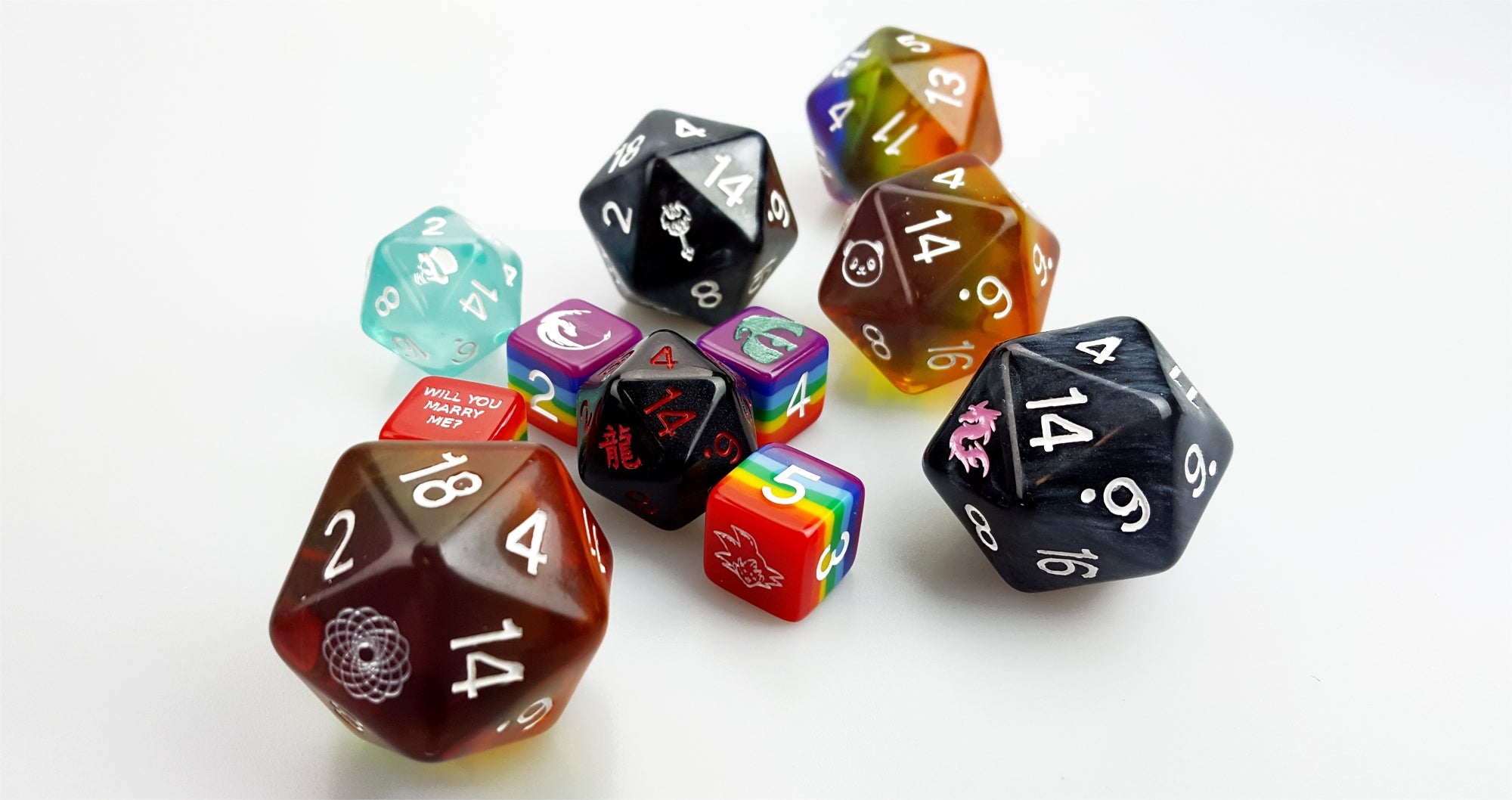 Welcome to the DND DICE Custom Dice Department
We engrave and paint your dice in house which helps us give you high quality work with a fast turn around time. Whether its a corporate event that is looking for giveaway dice with a logo, to custom dice for weddings, anniversaries, baby showers, or birthday presents; we can take care of it.
Our program is very simple. We have Slightly Oversize 25mm and Oversize 34mm D20's in stock with both the high face and low face available for customization. There are also 16mm fully blank D6's.  Our minimum order is for 1 unit starting at $50 USD + Shipping.  The pricing per unit will decrease as the quantity increases.  You can engrave your choice of text, pictures, or a combination of both. The possibilities are limited only to your imagination. If you need some suggestions, we are available to help you plan your custom dice project.
The 2 best ways to order are either:
Step 1: Place your order.
Step 2: Email us with your order number and let us know what pictures and/or text you want on your dice.
Step1: Email us first to discuss and plan out your order.
Step 2: Place your order.
Both ways are good for us, and we suggest using the method that you are most comfortable with.
SHORT FAQ
Production Time: We produce our orders on a first come first serve basis, so the production time will vary depending on how large our queue is. Orders typically take a couple of weeks to produce, but feel free to email us to get an appx production time or to let us know if you have a specific deadline.  Rush production is available for 50% extra, which will guarantee delivery before your deadline.  This can shave off days or weeks from your production time.  You can contact us, to let us know your deadline, in order to find out if rush production is necessary or not for your order.
Available Dice: 16mm Standard Size D6 in Prismatic Classic Rainbow. 25mm Slightly Oversize D20's in Translucent Teal and Opaque Black with Red. 34mm Oversize D20's in Marbled Adamantium and Translucent Rainbow.
Cost: The minimum order for 25mm d20's and 34mm d20's is $50 + Shipping for 1 unit and the pricing decreases with orders of 25+ units.
Contact us: You can reach us at:
Thank you for your consideration, and we look forward to making your dice dreams come true.
Cheers,
Emanuel
The Dice Guy